"Responsibility to Protect" crumbles as Western-armed terror front slaughters civilians while foreign sponsors attempt to tie hands of Syrian security forces.

For the people of Aleppo, their only hope is Syria's security forces restoring order. In the pockets of Syria's largest city the so-called "Free Syrian Army" (FSA) has dug into, a campaign of systematic detention, torture, and mass murder has been carried out against "enemies of the revolution." Demonized as either "Shabiha" or "government supporters," men have been rounded up, lined up against walls, and gunned down en mass. Others await barbaric "drumhead trials" where FSA warlords deal out arbitrary justice under the guise of "Sharia law."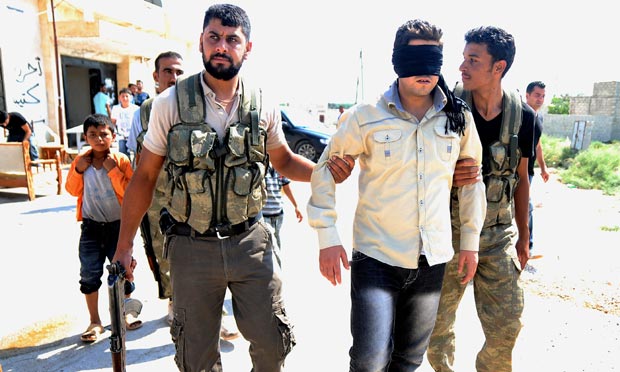 Image: The Western media is covering - or more accurately, "spinning" - an unfolding sectarian genocide in Syria's largest city Aleppo. In the alleys of seized streets, FSA terrorists are detaining, torturing, and killing anyone suspected of supporting the government. Such suspicions coincidentally run along sectarian divisions. By using the label "Shabiha" for all of FSA's victims, the Western press has given a carte blanche to genocidal sectarian extremists and by doing so, has become complicit in war crimes themselves.

...
"Regarding the video of the shabiha killed by the FSA, as far as I know these shabiha are from the "Berri" clan in Aleppo. They have a long history of being pro-regime shabiha and they have been involved in a lot of killing in Aleppo.

The regime used to provide them with light weapons and knives and gather them in schools to go and launch their attacks against civilians. Just before they left one of the schools they were caught by the FSA and killed.
In this war in which we left alone to fight such a vicious regime, everything is possible and legitimate and as long as the international community keeps looking at Syria in such carelessness, you will see more of that and even worse."
....
"Robert Baer, a former longtime C.I.A. agent in Lebanon, has been a severe critic of Hezbollah and has warned of its links to Iranian-sponsored terrorism. But now, he told me, "we've got Sunni Arabs preparing for cataclysmic conflict, and we will need somebody to protect the Christians in Lebanon. It used to be the French and the United States who would do it, and now it's going to be Nasrallah and the Shiites" -The Redirection, Seymour Hersh (2007)